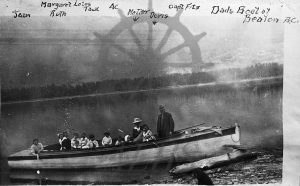 : 2014.003.5537
: F27-22
:
: 1914-- - 1916--
: 1910s, Andrews; Al, Craig; Andrew Alvin 'Andy' [Jr.], Craig; Andrew McCullough 'Andy', Craig; Annie (Valentine), Craig; Doris, Craig; Margaret, Fitzsimmons; Capt. James, Fraser; Jack, Northeast (Beaton) Arm, rowboat, Ruckle; Lotus (Fraser), Simpson; Jean (Craig), and Upper Arrow Lake
: Beaton
:
1 b/w negative (35 mm)
:
Group in Andy Craig's rowboat at Beaton as they prepare to depart to purchase two Ford Model Ts, Upper Arrow Lake, early 1910s. Boat later belonged to Al Andrews. L-R: Jean Craig, Margaret Craig, Ruth ?, Lotus Fraser ?, ?, Jack Fraser, Andy Craig Jr., Annie Craig, Doris Craig, Capt. James Fitzsimmons.
Purchase Print