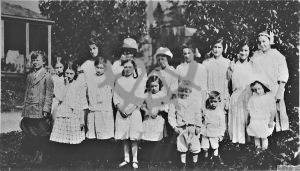 : 2014.003.5510
: F26-19A
:
: 1914-- - 195--
: 1910s, Battershall; Hazel, Battershall; Muriel, Craig; Andrew Alvin 'Andy' [Jr.], Craig; Doris, Craig; Margaret, Cummins; Fred 'Mickey', Daney; Seldon Jr., Daney; Vivian, Hassell; Alice (Daney), LeQuesne; Dora Watson (Wilkie), Simpson; Jean (Craig), Tomlinson; Hila, and Wilkie; Winnie
:
1 b/w negative (35 mm)
:
Group portrait of children, Trout Lake, 1914-1915. L-R: Seldon Daney, Jean Craig, ? Jacobson, Alice Daney, ?, Muriel Battershall (at back), Hazel Battershall, Margaret Craig (at front), Hila Tomlinson (at back), Fred Cummins (at front), Winnie Wilkie (at back), Andy Craig Jr. (at front), Dora Wilkie, Vivian Daney, ?, Doris Craig.
Purchase Print