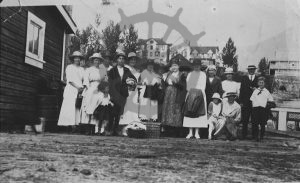 : 2014.003.545
: A32-3
:
: 1910-- - 1925--
: Allan; Katharine (McDougald), Canadian Pacific Railway station (Nakusp), Davis; Germaine (Parent), Fellows; Amelia, Fellows; Fred, Government wharf (Nakusp), Grand Hotel, Harper; Vera (Hummon), hotel, Leland Hotel, Lodge; Amy (Beckett), McDougald; Don, McDougald; Sarah Maud (Muirhead), Parent; Alice Sr., picnic, Powell; Anne Louise, and Upper Arrow Lake
: Nakusp
:
1 b/w negative (35 mm)
:
Large group of picnicgoers gathered at government wharf, Nakusp, Upper Arrow Lake, ca. 1910s-1920s. Leland Hotel seen in background. L-R: ?, Anne Louise Powell, Katharine McDougald (top), ? (bottom), Don McDougald, Maud McDougald, ?, Germaine Parent, Alice Parent Sr., Amy Lodge, Vera Harper (top), ? (bottom), Amelia Fellows (top), ? (bottom), Fred Fellows, ?.
Purchase Print