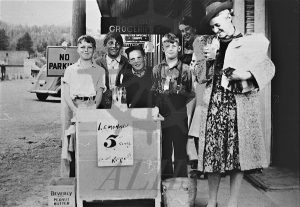 : 2014.003.5426
: F22-6
:
: 1941--
: 1940s, Barrow; Bill, Broadway Street, Canadian Red Cross, Cartie; Arthur 'Art', Cartie; Charlie, Dolman; Annie, Edwards Block, lemonade stand, Munn; Hope (Taylor), Nakusp Drug Store/Head's Pharmacy, Nellie's Specialty Shoppe, Olson; Roy, pharmacy, Ralph Islip/Broadway Store, Slocan Avenue, and store
: Nakusp
:
1 b/w negative (35 mm)
:
Children posing with customers in front of their lemonade stand set up on Broadway Street in front of Nakusp Drug Store (320 Broadway Street), 1941. The stand was to raise money for the Canadian Red Cross. L-R: Charlie Cartie, Roy Olson, Bill Barrow, Art Cartie, Annie Dolman, Hope Munn.
Purchase Print