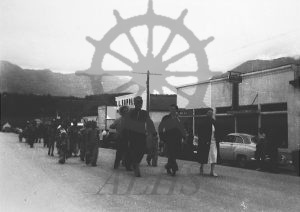 : 2014.003.5358
: F18-25
:
: 1952-07-01
: 1950s, 306 4th Avenue NW, 308 Broadway Street W, 312 Broadway Street W, Arrow Lakes Supply Co., Broadway Street, Canada Day, Gibbs; Marjorie (Kirk), Herridge; Herbert Wilfred 'Bert', Jupp's Men's Wear, Nakusp Diamond Jubilee, Nakusp Hardware, parade, and Pye; Don
: Nakusp
:
1 b/w negative (35 mm)
:
Paraders marching down 300 block, Broadway Street, July 1st parade/Nakusp Diamond Jubilee, 1 July 1952. FRONT (l-r): Sgt. Don Pye, Bert Herridge, Marjorie Kirk. Nakusp Hardware at right, followed by Jupp's Men's Wear and Arrow Lakes Supply Co.
Purchase Print