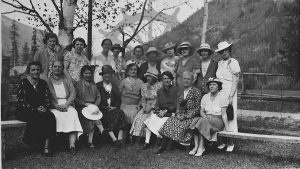 : 2014.003.5116
: E50-15A
:
: 1937--
: 1930s, Adshead; Florence (Green), Adshead; Margaret, Graham; Ethel (Hascarl), Hall; Barbara, Kerr; Florence, Kerr; Sarah, Lewis; Selina 'Ena' (Stuchbury), Maple Women's Institute, Marshall; Harriet 'Rettie' (Longbotham), Mole; Marion, Robins; Mary (Graham), Rogacz; Theresa, Rogers; Marjorie (Greenland), Stuchbury; Joyce, and women's institute
:
1 b/w negative (35 mm)
:
Group portrait of members, Maple Women's Institute, East Arrow Park, 1937. TOP (l-r): Florence Adshead, Mary Robins, Marjorie Rogers, Florence Kerr, Joyce Stuchbury, Theresa Rogacz, Marion Mole, ?, Ena Lewis, Brown. BOT: Miskulin, Barbara Hall, Rettie Marshall, Wilson, Sarah Kerr, Margaret Adshead, Ethel Graham.
Purchase Print