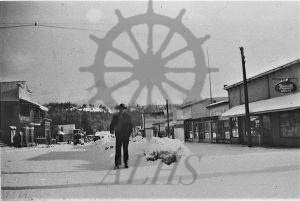 : 2014.003.5079
: E49-3
:
: 1945-- - 1955--
: 202 Broadway Street W, 215 Broadway Street W, 217 Broadway Street W, 302 Broadway Street W, 306 Broadway Street W, 308 Broadway Street W, 312 3rd Avenue NW, 314 Broadway Street W, A.E. Picard Shoe Store, Arrow Lakes Supply Co., B.C. Telephone Co., Bluebird Cafe, Broadway Cafe/Royal Cafe, Broadway Street, butcher, Edwards Block, Jupp's Men's Wear, Lodge's/Nakusp Ice Cream Parlour, Nakusp Drug Store/Head's Pharmacy, Nakusp Meat Market, Nellie's Specialty Shoppe, pharmacy, Ralph Islip/Broadway Store, restaurant, snowbank, and store
: Nakusp
:
1 b/w negative (35 mm)
:
Man posing in front of snowbank on Broadway Street in front of drug store, Edwards block, intersection of Broadway Street and Slocan Avenue, Nakusp, late 1940s-1950s. Buildings at left, L-R: Broadway Cafe, Picard's Shoe Repair, Buerge house, Bluebird Cafe. Buildings at right, R-L: Nakusp Drug Store, Ralph Islip grocery, B.C. Telephone Co., McCullough store (Ladies Specialty Shoppe), Jupp's Men's Wear, Arrow Lakes Supply Co. (Rushton Hardware), Cook's Ice Cream Parlour, Harper's Meat Market, Hakeman's Imperial Garage.
Purchase Print