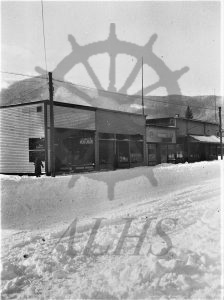 : 2014.003.5074
: E48-24A
:
: 1940-- - 1943--
: 1940s, 302 Broadway Street W, 306 Broadway Street W, 308 Broadway Street W, 312 Broadway Street W, 314 Broadway Street W, B.C. Telephone Co., Broadway Street, Edwards Block, Jupp's Men's Wear, Nakusp Drug Store/Head's Pharmacy, Nellie's Specialty Shoppe, pharmacy, Ralph Islip/Broadway Store, Rushton Hardware and Furniture, and store
: Nakusp
:
1 b/w negative (35 mm)
:
South side, 300 block, Broadway Street (at intersection with Grace Avenue), winter, early-to-mid-1940s. Jupp Bros. Men's Wear at left followed by Wagstaff & Vestrup block (Frank Rushton's hardware store), Nellie's Specialty Shop, B.C. Telephone Co., and Edwards block (Islip's grocery & drugstore).
Purchase Print