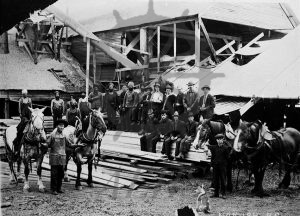 : 2014.003.506
: A30-2
:
: 1912-- - 1913--
: 1910s, Buhl; Ernie, Carlson; Vic, forestry, Genelle; Art, horse, Miller; H. Leslie 'Les', Olson; Oscar, Quance & Carlson, Reilly; Dell Emanuel, Reilly; William James 'Bill', sawmill, Singh; Jagat, Singh; Lashman, Singh; Santa, Singh; Serhan, Taylor; Hugh, Turner; Charles, and Vanderburgh; Capt. Charlie
: Nakusp
:
1 b/w negative (60 mm)
:
Group portrait of workers at Carlson mill, Nakusp, 1912-13. TOP:1.? 2.Jagat Singh 3.? 4.? 5.Lashman Simgh 6.? 7.Santa Singh 8.Turner 9.Serhan Singh 10.? 11.Art Genelle 12.? 13.? 14.Les Miller 15.Oscar Olson 16.? 17.Hugh Taylor. FR:Bill Reilly, Vic Carlson, Ernie Buhl, Charles Vanderburgh. With horses: Del Reilly.
Purchase Print