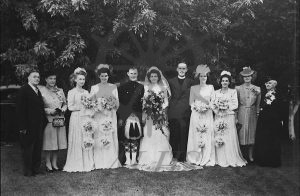 : 2014.003.5039
: E47-12A
:
: 1944-08-17 - --
: 1940s, church, Crump; Bernice (Jordan), Dalzell; Sydney (Leary), Easton; Eileen (Leary), Firbank; Bob, Gilbert; Rev. Frank, Jordan-Williams; Blanche, Leary; Bessie Florence (Jordan), Leary; Sheila Florence (Firbank; Fleming), St. Mark's Anglican Church (1893-1968), and wedding
: Nakusp
:
1 b/w negative (35 mm)
:
Wedding party, wedding of Sheila Leary and Bob Firbank, St. Mark's Anglican Church, Nakusp, 17 August 1944. L-R: Sid Leary, ?, Bernice Jordan, Bob Firbank, Sheila Leary, Rev. Gilbert, Eileen Easton, Sydney Leary, Florence Leary, Blanche Jordan-Williams.
Purchase Print