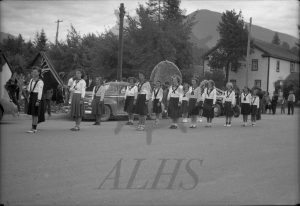 : 2014.003.497
: A29-16/J103-11
:
: 1950-- - 1954--
: Doreen Desrochers and Estate of Ichiro Shiino
: 1950s, Broadway Street, Brown; June, Canada Day, Canadian Girls In Training, Edith Avenue, Hartley; Mrs., Henke; Betty (Miller), Hurry; Emily, Karsten; Shirley, Marks; Joan (Brown), Milner; Ellinore (Nixon), Oxenham; Joy, Oxenham; Shirley, parade, Simard; June (Gardner), and Spiers; Margaret
: Nakusp
:
1 b/w negative (60 mm); 1 b/w negative (35 mm)
:
Canadian Girls in Training (CGIT) members marching in July 1st parade, Broadway Street West at Edith Avenue, Nakusp, 1950s. L-R by heads:June Gardner, Ellinore Nixon, Mrs. Hartley, Joan Brown, Betty Miller, Emily Hurry, Joy Oxenham, June Brown, Shirley Karsten, ?, Marg Spiers, Shirley Oxenham, ?, ?. Photo by Ichiro Shiino.
Purchase Print