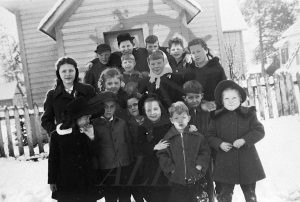 : 2014.003.4791
: E32-16A
:
: 1946-- - 1949--
: 1940s, Broadway Street, church, Gilbert; Rosalie (Middlemass), Hempseed; Brian, Howitt; Stanley, Hurry; Emily, Hurry; Neil, Kandal; Ione (Harris), Maxfield; Charles, Middlemass; Edith, Morehouse; Dale, Simmons; Barb, Simmons; Bev, Simmons; Chuck, St. Mark's Anglican Church (1893-1968), Stanley; Alan, Stanley; Denis, Stanley; Ken, and Walton; Sue
: Nakusp
:
1 b/w negative (35 mm)
:
Group of children posing in front of St. Mark's Anglican Church, 500 block, Broadway Street, Nakusp, mid-1940s. BACK: Alan Stanley, Brian Hempseed, Ken Stanley, Neil Hurry. MID: Emily Hurry, Rosalie Middlemass, Denis Stanley, Sue Walton, Edith Middlemass. BOT: Chuck Simmons, Bev Simmons or Barb Simmons, ?, Ione Harris, Charles Maxfield, Dale Morehouse, Sheila Stanley.
Purchase Print