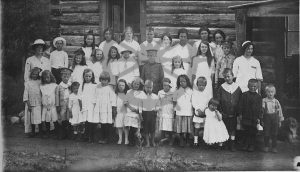 : 2014.003.4528
: E15-2/F38-00
:
: 1917-- - --
: Estate of Phyllis Falkiner and Vera Pigott
: 1910s, Bailey; Mary (Cook), Belsham; George Jr., Belsham; Jack, Box Lake School, deGans; Ethel (Aalten), Dow; Hendrina/Henrietta 'Peggy' (Munn; Dow), Ehl; Dora, Ehl; Frank, Ehl; John, Ehl; Rita, Falkiner; Phyllis (Belsham), Gaites; Winnie (Wensley), Graham; Ethel (Hascarl), Hamling; Chris Jr., Hamling; Ernie, Harlow; Doris, Harlow; Ken, Harlow; Sam Jr., Jones; Lily (Hascarl), Lieb; Ida (Harlow), picnic, Reid; Mildred (White), Sanderson; Rika (Funcke), school, Shelling; Enid (Wensley), Stanley; Marjorie 'Madge' (White), Walton; Betty (White), Wensley; Fred, and Wyrill; Mrs.
: Brouse
:
2 b/w negatives (35 mm)
:
School portrait beside schoolhouse, Brouse (Box Lake) School, 1917. Children from Glenbank are present as well. TOP(l-r): ?, ?, Mary Cook, Ethel Aalten, George Belsham, Enid Wensley, ?, ?, Mildred White. MID: Mrs. Wynall, ?, Phyllis Belsham, ?, Henrietta Aalten, Fred Wensley (in uniform from Eaton's), Madge White, Winnie Wensley, Chris Hamling, Rika Funcke. BOT: Rita Ehl, ?, Ernie Hamling, Doris Harlow, Betty White, ?, Vera Wensley, Dora Ehl, Jack Belsham, Lily Hascarl, Ethel Hascarl, Ken Harlow, Ida Harlow, Sam Harlow, John Ehl, Frank Ehl.
Purchase Print