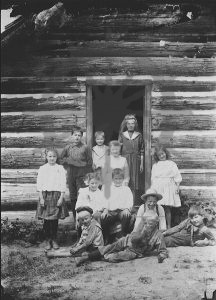 : 2014.003.4525
: E14-19A
:
: 1911-06-
: 1910s, Cooper; Jessie (Watson), Ennest; Bill, Ennest; Ernie, Forslund; Freddie, Forslund; Oscar, Hopp; Bill, Inonoaklin Valley School (original), MacLeod; Miriam (Jordan; Cassidy), school, Warner; Georgina, Warner; John, Warner; May, Watson; Albert, and Wurzburg; Frances (Simcock)
: Edgewood
:
1 b/w negative (35 mm)
:
Class portrait at school entrance, Fire Valley School north of Edgewood (modern Inonoaklin Valley Road opposite Robinson Road), June 1911 (not 1912). TOP(l-r): Bill Ennest, Francis Simcock, Jessie Watson, Miriam Jordan. MID: May Warner, Georgina Warner, Albert Watson?, Ernie Ennest. BOT: Bill Hopp, Fred Forslund or Oscar Forslund, John Warner.
Purchase Print