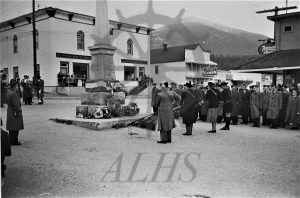 : 2014.003.4497
: E13-8
:
: 1950-- - 1959--
: 1950s, 311 Broadway Street W, Broadway Cafe/Royal Cafe, Broadway Street, cenotaph, Edwards Block, Masonic Building (Nakusp), Nakusp cenotaph, Nakusp Drug Store/Head's Pharmacy, Remembrance Day, restaurant, and Slocan Avenue
: Nakusp
:
1 b/w negative (35 mm)
:
Remembrance Day ceremony, war memorial cenotaph, corner of Broadway Street and Slocan Avenue, Nakusp, 1950s. Masonic Building (Canadian Bank of Commerce/Nakusp post office behind cenotaph) and Broadway Cafe in background across street. Nakusp Drug Store (Rexall) at right.
Purchase Print