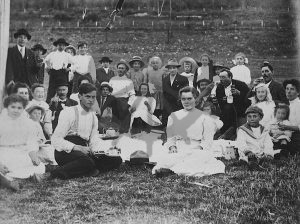 : 2014.003.4480
: E12-13
:
: 1911--
: Arrow Lakes Historical Society
: 1910s, Bowes; Annie, Bowes; Cliff, Bowes; Harriet (Arnett), Bowes; Marvin, Bowes; Tom, Harvey; Florence (Moul), Moul; Alfred 'Alf' Sr., Moul; John, Parkinson; Ben, and Parkinson; Lydia Jr.
: Glenbank
:
1 b/w negative (35 mm)
:
Large group of picnicgoers in grass, Glenbank, ca. 1911. John Moul top left. Harriet Bowes 2nd from middle left. Annie Bowes bottom left. Cliff Bowes 2nd from bottom left. Marvin Bowes 5th from middle left. Lydia Parkinson 6th from middle left. ? Peters is woman at front of picture. Ben Parkinson holding up object in right hand 3rd from middle right. Tom Bowes hold up beverage 2nd from middle right. Alf Moul at middle right. Florence Moul with Moul children at bottom right.
Purchase Print