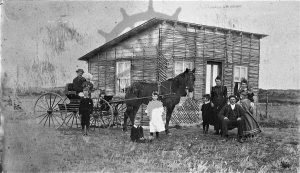 : 2014.003.4450
: E11-1A
:
: 1898-- - 1899--
: 1890s, Dendy; Harry, Fagetter; Bert, Fagetter; Chrissie, Fagetter; Fred, Fagetter; Honour, Fagetter; Lilly, Fagetter; Rosa, farms, horse, horse-and-carriage, Sundstrom; Bert, Sundstrom; Florrie, and Sundstrom; Oscar
:
1 b/w negative (35 mm)
:
Group portrait on farm in front of farm building, ca. 1898-1899. Parent notes state Cochrane, Alberta but Sundstroms were living at Virden, Manitoba at this time and moved to Bottrel, Alberta in 1904. BUGGY (L-R): Harry Dendy (Florrie Sundstrom's father) holding Bert Sundstrom, Lilly Fagetter. FRONT: Fred Fagetter. WITH HORSE: Bert Fagetter, Honour Fagetter. RIGHT: Chrissie Fagetter, Rosa Fagetter, Oscar Sundstrom, Florrie Sundstrom. The Sundstrom family settled in Burton in 1910.
Purchase Print