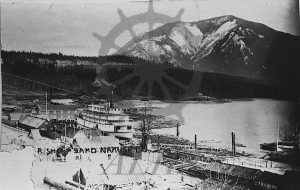 : 2014.003.4423
: E9-5/F18-12
:
: 1911-03- - 1911-04-
: 1910s, Bay Street, boat construction, Box Mountain, Canadian Pacific Railway, Canadian Pacific Railway workshop, Nakusp & Slocan Railway, Nakusp shipyard, SS Bonnington, sternwheelers, and Upper Arrow Lake
: Nakusp
:
2 b/w negatives (35 mm)
:
Bird's-eye view of Canadian Pacific Railway shipyard and east end of Bay Street, Nakusp, 1911. SS Bonnington under construction at centre. CPR workshop built in 1910 to store parts for Bonnington behind ship. Box Mountain at top right. Upper Arrow Lake at right. Image from estate of Kate Johnson (Mrs. E.C. Johnson).
Purchase Print