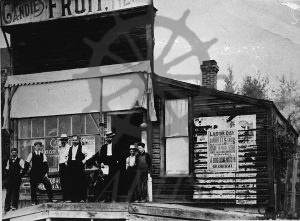 : 2014.003.4066
: D33-10
:
: 1904--
: Estate of E.C. Johnson and Morris Wadds
: 1900s, Abbie; Bob, barber shop, Bay Street, Brett; Arthur Harold, Morrison's barber shop/pool hall, Morrison; James 'Jim', pool/billiards room, and Scott; Walter
: Nakusp
:
1 b/w negative (35 mm)
:
Men posing in front of Jim Morrison's barber shop & confectionery (likely later the site of Charlie Ehl's confectionery after 1908), Bay Street, Nakusp, 1904. Poster for Labour Day celebration in Sandon on wall at right. L-R: Bob Abbie, ?, Walter Scott, Jim Morrison, ?, Arthur Brett, ?. Man third from right identified in Port of Nakusp as Jan Hoogerwerf, but Hoogerwerfs did not arrive here until 1907.
Purchase Print