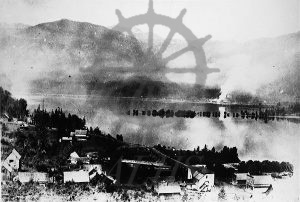 : 2014.003.3848
: D18-7
:
: 1913--
: 1910s, barn, Beaton Hotel, Beaton; Malcolm, Derose; J., Goldsmith; George, Goldsmith; Katherine, Gunterman; Henry, Gunterman; Will, hotel, Northeast (Beaton) Arm, and Upper Arrow Lake
:
1 b/w negative (35 mm)
:
Bird's-eye view of Beaton townsite in foreground along Upper Arrow Lake, 1913. Smoke from Comaplix townsite can be seen across lake at top right. BUILDINGS, BOT LEFT (bot to top): Delivery barn, Beaton store, recording office. FACING: Beaton Hotel. TO LEFT: Strutt house. TO LEFT (bot to top): H. Gunterman house, J. Derose house, Green house, Green house, Beaton woodshed, Beaton house. FAR LEFT (bot to top): William Gunterman house, Goldsmith house, Gunterman barn, house later owned by Steve Rowe and used as post office, possibly Branford's new 2-story barn built after fire.
Purchase Print