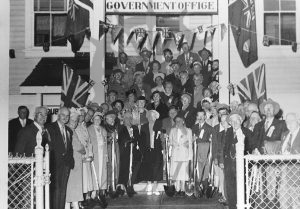 : 2014.003.381
: A22-10/A27-4
:
: 1952-07-01
: Alf Dunn
: 1950s, Bailey; Ethel (Gregory), Baird; Mary, Canada Day, Cowan; Elizabeth (Goupille), Crowell; Alice (Boyd), Fowler; Ethel (Vipond), Gardner; Hunter Sr., Gibbs; Marjorie (Kirk), Hamer; Ruhama 'Rhuie'/'Ruhie', Hopp; Ida (Funcke; Giraud), Hurry; Florence 'Flo' (Dilley), Johnson; Kate (Bailey), Jordan-Williams; Blanche, Leary; Bessie Florence (Jordan), Nakusp Courthouse, Nakusp Diamond Jubilee, Parent; Alice Sr., Parent; Joseph Jr., and Tarr; Elsa (Henke; Olson)
: Nakusp
:
2 b/w negative (35 mm)
:
Group portrait on steps of Nakusp Courthouse for ceremonial tree planting, 1 July 1952. FRONT (L-R): ?, Hunter Gardner, ?, Ida Giraud, Mrs. Millar, Rhuie Hamer, ?, Alice Parent, Blanche Jordan-Williams, Alice Crowell, Elizabeth Cowan, Joe Parent Jr. Florence Leary standing behind Joe Parent's left shoulder. Flo Hurry immediately behind Elizabeth Cowan. Kate Johnson immediately behind Alice Crowell. Mary Baird immediately behind Blanche Jordan-Williams. Mrs. M. Davies and Ethel Bailey standing 2nd and 3rd from left in 2nd row from top. Marjorie Kirk standing above and between Elizabeth Cowan and Joe Parent. Annie Bowes immediately behind Mary Baird. Ethel Fowler above and to left of Marjorie Kirk standing close to support beam. Elsie Henke two heads above Ethel Fowler.
Purchase Print