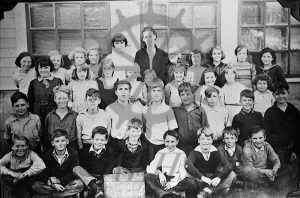 : 2014.003.372
: A21-19
:
: 1935-10-08
: Alf Dunn
: 1930s, Anton; Bea (Steenhoff), Barlow; Fred, Bedard; Vivian, Brodie; Louise, Brodie; Margaret, Brown; Gertrude, Buerge; Melvin, Busby; Gladys (Olson), Cann; Jean, Cann; John, Clark; Bob, Crump; Bernice (Jordan), Dolman; Bob, Dunn; Alf, Gill; Raymond, Gillman; Pam (Herridge), Green; Dave, Green; Les, Harvey; Nellie, Harvey; Stella, Hoy; Herb, Hoy; Orren Lee, Humphries; Charlotte (Barrow), Johnson; Ruth, Leary; Sheila Florence (Firbank; Fleming), Marshall; Roy, McCusker; Gladys 'Gay' (Barrow), Morrow; Margaret (Salstrom), Nakusp Centennial Building, Nakusp School (1912-1957), Olson; Del, Parent; Len, Poole; Lillias (Kerr), school, Smith; Bob, Smith; Evelyn, Surina; Louis, Sutherland; Kay, and Wahlstrom; Dorothy
: Nakusp
:
1 b/w negative (35 mm)
:
School portrait against side of Nakusp School, 8 October 1935. TOP(l-r): Louise Brodie, Gladys Olson, Pam Herridge, Vivian Bedard, Jean Cann, Lillias Kerr (teacher), Charlotte Barrow, Nellie Harvey, Sheila Leary, Kay Sutherland, Evelyn Smith. 2ND TOP: Bernice Jordan, Margaret Salstrom, Dorothy Wahlstrom, Beatrice Steenhoff, Margaret Brodie, Gay Barrow, Gertrude Brown, Ruth Johnson, Stella Harvey. 2ND BOT: Fred Barlow, Del Olson, Bob Clark, John Cann, Bob Dolman, Herb Hoy, Harold Cann, Ray Gill, Bob Smith. BOT: Alf Dunn, Melvin Buerge, Dave Green, Les Green, Louis Surina, Orren Hoy, Len Parent, Roy Marshall.
Purchase Print