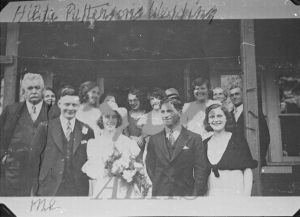 : 2014.003.370
: A21-17
:
: 1933-05-09
: Alf Dunn
: 1930s, Berard; Isabelle (Patterson), Cook; Mary, Dunn; Bette (Colegrave), Fulkco; Dave, Fulkco; Ellen (Abriel), Hurry; Edith (Dilley), Patterson; Edith (Stanton), Patterson; Richard Roger, Thurgood; Harry, wedding, Woodhouse; Albert, and Woodhouse; Hilda (Patterson)
: Nakusp
:
1 b/w negative (35 mm)
:
Group of attendees at wedding of Hilda Patterson and Albert Woodhouse, Richard Patterson home, Nakusp, 9 May 1933. TOP (l-r): Bette Dunn, ?, Isabelle Patterson, ?, ?, Edith Dilley, ?, Mary Cook, Edith Patterson, Harry Thurgood. BOT: Richard Patterson, Albert Woodhouse, Hilda Patterson, Dave Fulkco, Ellen Fulkco.
Purchase Print