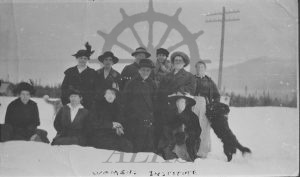 : 2014.003.35
: A2-12/A39-19/F4-14
:
: 1924-- - 1929--
: 1920s, Arrow Lakes Hospital Auxiliary, Bulger; Clara, Carlson; Minnie, Harvey; Florence (Moul), Herridge; Charlotte, Masters; Nettie, McWhirter; Elizabeth (McDowall), Moffat; Addie, Poole; Florence, Powell; Mary, and Vipond; Lena
: Nakusp
:
3 b/w negatives (35 mm)
:
Group portrait, Arrow Lakes Hospital Auxiliary (not the Women's Institute), ca. 1920s (no earlier than 1924). TOP (l-r): Minnie Carlson, Elizabeth McWhirter, Nettie Masters, Clara Bulger, Addie Moffat. BOT: Florence Harvey, Mary Powell, Charlotte Herridge, Lena Vipond, Florence Poole.
Purchase Print