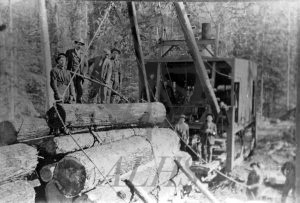 : 2014.003.339
: A20-8/D50-9
:
: 1910--
: Merril Barrow and Ray Street
: 1910s, Arrow Lakes Lumber Co. (Arrowhead), Boutillier; Osbourne, Depot Camp (Galena Bay), forestry, Kinchler; Bob, loader, logging, and logging camp
:
2 b/w negatives (35 mm)
:
Men posing with log pile and log loader, Arrow Lakes Lumber Co., Galena Bay, 1910. Notes by John Nelson: 'Steam log loader loading logs on to railroad cars at Galena Bay, summer 1910. Edward McGaghran, A.L.L. Co's mill superintendent, second from left. Bob Kinchler, logging camp foreman last in row of four right on load. This log loader is still at Galena Bay mounted on railroad track near the shore at Depot Camp. original cost was $4000.00. Copy photo by John Nelson. Sent Oct. 13th 1951.' Osborne Boutillier at left.
Purchase Print