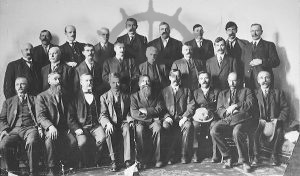 : 2014.003.3288
: C41-30
:
: 1910-- - 1935--
: Caldwell; George, Devlin; John Gibb 'Gunner', Dow; Alan, Dumont; Joe, Fisher; George H., Fletcher; Frank, Fletcher; George, Gallagher; Pat, Gibson; John A., Green; Jim, Hoover; Newlin, Jowett; William Austin, Kilby; John P., Lane; Allen, Madden; Tom, McDonald; Allan, Pitts; H.H., Traves; Ed, Tregillus; Al, and Woodbury; J.P.
: Nelson
:
1 b/w negative (35 mm)
:
Group portrait of Nelson and West Kootenay pioneer settlers, early 20th century. TOP (l-r): Joe Dumont, John Gibb Devlin ('Gunner from Galway'), Allan McDonald (bartender), Ed Traves (butcher), J.P. Woodbury (mining man), George Fletcher, Allen Lane (photographer), Pat Gallagher (Canadian Pacific Railway & road foreman). MID: John A. Gibson (postmaster), Frank Fletcher (mayor), H.H. Pitts (Grand Central Hotel), Jim Green, ?, John P. Kilby (CPR manager), ?. BOT: Alan Dow (CPR manager), ? Shannon, William Austin Jowett (editor, Daily Miner; organist), George Caldwell (owner, Real Estate), Newlin Hoover, Tom Madden, Al Tregillus (Tremont Hotel), [illegible] Blundell ([illegible] man), George H. Fisher (prospector).
Purchase Print