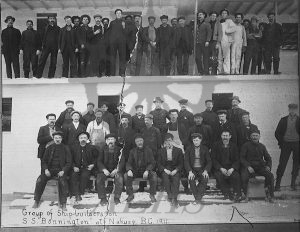 : 2014.003.3153
: C30-10/C31-1A
:
: 1911--
: 1910s, Bennison; Frank, Bergwerf; Cornelis 'Cees', Bernson; A., boat construction, Bonner; E., Bowes; Tom, Bulger; Dave, Campbell; Jim, Claridge; W.J., Cunningham; J., Dorea; Bill, Faucher; Joseph, Gregory; Charlie, Hamling; Chris Sr., Harper; C., Hoogerwerf; Jan, LaRue; Robert Henderson 'Bob', McWhirter; Bob, Melet; Bill, Munell; R., Nakusp shipyard, Peters; A.L., Robson; Glen, Rockwood; George, SS Bonnington, Steers; J., sternwheelers, Thulson; C., Tillett; George, Vanderburgh; Capt. Charlie, and Wagstaff; James
: Nakusp
:
2 b/w negatives (35 mm)
:
Large group portrait of shipbuilding crew, SS Bonnington, Canadian Pacific Railway shipyard, Nakusp, 1911. SCAFFOLD(l-r): George Tillett, Dago, E. Bonner, Ceghloune, Noble, Glen Robson, A.L. Peters (W. Pester?), Quaye, Frank Bennison, Tharsled, Lambert, Cees Bergwerf, Claridge, Jim Campbell, Masters, ?, C. Marshall, Reevler, Sutherland, Bill Dorea, Sutherland, Chris Hamling. TOP(l-r): J. Fayle, Charlie Vanderburgh, Dennis, ?, Tom Bowes, J. Cunningham, Dalgaono (Manhe?), Aalten, Hendricks, Dave Bulger (standing). MID: A. Bernson, Wilkie, Jan Hoogerwerf, Charlie Gregory, J. Wagstaff, T. Aalten, Bob LaRue, George Rockwood, Crow. BOT: Bill Melet, J. Steers, A. Miller, J. Faucher, R. Munell, C. Harper, Bob McWhirter, C. Thulson.
Purchase Print