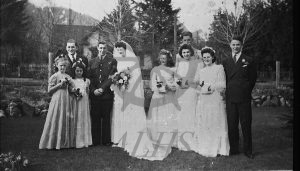 : 2014.003.3145
: C30-2
:
: 1943-05-26
: 1940s, Argyle; Jack, Burgoyne; Irene (Buerge), Carr-Hilton; Beth (Rushton), church, Dolman; Bob, Leary; Sheila Florence (Firbank; Fleming), St. Mark's Anglican Church (1893-1968), Truss; Mary (Rushton; Argyle), and wedding
: Nakusp
:
1 b/w negative (35 mm)
:
Wedding party posing in yard of St. Mark's Anglican Church (500 block, Broadway Street, Nakusp), wedding of Jack Argyle of Nelson and Mary Rushton of Nakusp, 26 April 1943 (Easter Monday). TOP (l-r): ?, Bob Dolman. BOT: Beth Rushton, ?, Jack Argyle, Mary Argyle (Mary Rushton), ?, Sheila Leary, Irene Buerge, ?.
Purchase Print