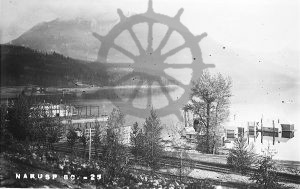 : 2014.003.3096
: C27-12
:
: 1911-- - 1918--
: 1910s, Box Mountain, Canadian Pacific Railway, Government wharf (Nakusp), Nakusp & Slocan Railway, Nakusp shipyard, postcard, SS Bonnington, sternwheelers, and Upper Arrow Lake
: Nakusp
:
1 b/w negative (35 mm)
:
Postcard showing Canadian Pacific (Nakusp & Slocan) Railway tracks and government wharf/boathouses on Upper Arrow Lake waterfront at Nakusp as seen from hillside, 1910s. Horatio Rothwell house seen above lakeshore at left opposite Nakusp. SS Bonnington docked at left. Photo by Ernest Bill, Nakusp.
Purchase Print