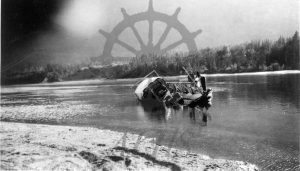 : 2014.003.3020
: C23-10
:
: 1930-- - --
: Milton Parent, Robins family, and Walter Millar
: 1930s, accidents, Arrow Park Ferry, automobiles, Buerge; Reuben, Columbia River, ferry, Millar; Walter, Robins; John, and The Narrows
: Arrow Park and East Arrow Park
:
1 b/w negative (35 mm)
:
Arrow Park ferry heavily listing (half-submerged) in water while carrying Reuben Buerge's freight truck (driver Walter Millar), The Narrows, Columbia River 1930. Buerge in hat at right. East Arrow Park in background. Notes on rear of Millar copy: 'Freighting across Needles ferry in 1930. It wasn't to[sic] good in those days'. Caption on Robins copy: 'Johnny's [John Robins] boat. Gov. rented boat. Ferry was made of log (raft) built by Frank Lewis'.
Purchase Print