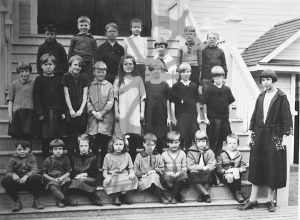 : 2014.003.2949
: C19-20/C20-2
:
: 1927-09- - --
: Margaret Steenhoff and Rae Yano
: 1920s, Baird; May (Talbot), Bradbury; Nellie (Humphris), Brodie; Eileen, Crampton; Frances (Lidberg), Cusick; Mervyn 'Merv', Dawson; Lily (Horrey), Giraud; Evelyn, Harrison; Anita (Horsley), Horrey; Charlie, Johnson; Doris (Harvey), Jollife; Margaret, Jupp; Clifford, McPhee; Ralph, Nakusp Centennial Building, Nakusp School (1912-1957), Reilly; Thelma Eileen, Roller; Lloyd, Roller; Roy, Russell; Frank, Russell; Kathleen, school, Somers; Ron, Sutherland; Nettie, Talbot; Gladys, Ward; Mabel (Bjorkland Alpsen), Wetterstrom; Sophie (Reyden), and Whyte; Katherine
: Nakusp
:
2 b/w negatives (35 mm)
:
Class portrait on steps, Nakusp Public School, autumn 1927. TOP(l-r): Charlie Horrey, Frank Russell, Merv Cusick, Lloyd Roller, Katherine Whyte, Ron Somers, Cliff Jupp. MID: Kathleen Russell, Frances Lidberg, Evelyn Giraud, Mabel Alpsen, Sophie Reyden, Eileen Reilly, May Talbot, Gladys Talbot. BOT: Ralph McPhee, Lily Horrey, Doris Harvey, Nellie Humphris, Nettie Sutherland, Anita Horsley, Margaret Jollife, Roy Roller, Mrs. Brodie (substitute teacher).
Purchase Print