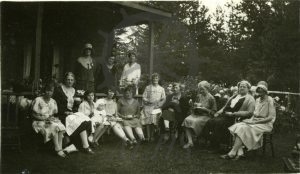 : 2014.003.2889
: C16-35
:
: 1930-- - 1939--
: 1930s, Burgoyne; Irene (Buerge), Graham; Ethel (Hascarl), Harvey; Florence (Moul), Humphris; Alice Sr., Johanson; Ethel, Jones; Margaret, Leveque; Evelina (Duquette), Masters; Nettie, Mayoh; May, Picard; Florence Mildred (Harvey), Pythian Sisters, and Salstrom; Rose (Hamling)
: Nakusp
:
1 b/w negative (35 mm)
:
Members of Nakusp Pythian Sisters posing in front of Humphris house, Nakusp, ca. 1930s. TOP (on porch L-R): Florence Picard, May Mayoh, Alice Humphris Sr. BOT: Rose Salstrom, Florence Harvey Sr., Ethel Graham & baby, Edith Horrey, Irene Buerge, Ethel Johanson, Evelina Leveque, Bert Jones' sister, Nettie Masters, Margaret Jones.
Purchase Print