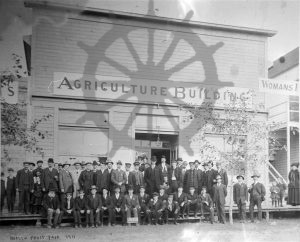 : 2014.003.2756
: C13-1/C13-2
:
: 1911-10-
: 1910s, 409 Broadway Street W, Abriel; Thomas, Baird; Robert 'Bob', Bowes; Tom, Broadway Street, Burton; Arthur, Collings; Laurie, Gardner; Hunter Sr., Henke; Paul R., Herridge; William 'Willie', Jansen; Karl, LaRue; Robert Henderson 'Bob', Moseley; J., Nakusp Fall Fair, Neubrand; Karl, Opera House (Nakusp), Parkinson; Ben, Rushton; Ellen, Salstrom; Oscar, Sundstrom; Bert, Sutherland; Frank, Taylor; Hugh, Vestrup; Jim, Vestrup; Russell, and Williams; Bill
:
1 b/w negative (35 mm)
:
Group portrait in front of Opera House (Agriculture Building, 409 Broadway Street West), 1911 Nakusp Fall Fair. TOP(l-r): ?, Frank Sutherland, Ben Parkinson, Hugh Taylor, ?, ?, ?, Oscar Salstrom, Tom Bowes, Bill Williams, J. Moseley, Karl Jansen, ?, ?, ?, ?, ?, Laurie Collings, ?, ?, Willie Herridge, Bert Sundstrom, Thomas Abriel, ?, ?, Arthur Burton, ?, Hunter Gardner, Bob LaRue, J. Vestrup, Bob Baird. BOT: Yoder seated 4th from right on sidewalk. Standing to right of group against sidewalk are Paul Henke & Karl Neubrand (Karl Newbrand). Standing on sidewalk at side entrance at right: Jim Vestrup, Russell Vestrup, Ellen Rushton.
Purchase Print