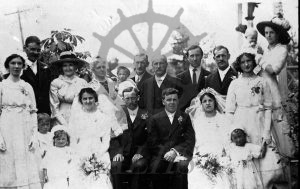 : 2014.003.255
: A13-8
:
: 1915-06-02
: 1910s, Funcke; Aaltje, Funcke; Fred, Giraud; Alice, Giraud; Byng, Giraud; Fred, Giraud; Vic, Hobbs; Thelma, Hopp; Ida (Funcke; Giraud), Howarth; Jessie (Ion), Ion; Jack, Kerr; Jack, Kerr; Margaret (Wallace), Lodge; Ted, Matouche; Chester, McWhirter; David 'Dave', McWhirter; Elizabeth (McDowall), Miller; H. Leslie 'Les', Miller; Hermina 'Minnie' (Funcke), Sanderson; Rika (Funcke), and wedding
: Nakusp
:
1 b/w negative (35 mm)
:
Group portrait of wedding party and attendees at Kerr/Miller double wedding, Nakusp, 2 June 1915. FRONT (l-r): Thelma Hobbs, David McWhirter, Jessie Ion, Jack Kerr, Margaret Kerr (nee Margaret Wallace), Les Miller, Minnie Miller (nee Hermina Funcke), Alice Giraud, Rika Funcke. BACK: Jack Ion, Mrs. McWhirter, Aaltje Funcke, Victor Giraud, Byng Giraud, Fred Funcke, Chester Matouche, Ted Lodge, Fred Giraud, Ida Giraud.
Purchase Print