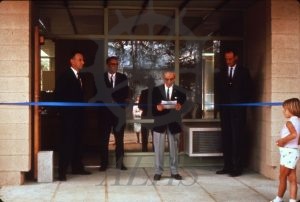 : 2014.003.2535
: I26-11
:
: 1965-08-30
: 1960s, BC Hydro, BC Hydro office (Nakusp), Coombs; G.D., Farmer; T.V., Harrison; W.A. 'Al', and Parent; Joseph Jr.
: Nakusp
:
1 colour slide (35 mm)
:
Nakusp Mayor Joseph Parent (centre) reading proclamation behind ribbon at ribbon cutting ceremony at entrance to new BC Hydro building, 30 August 1965. L-R: Al Harrison (BC Hydro Arrow Lakes district manager), G.D. Coombs (South Interior power districts manager), Joseph Parent (Chariman, Nakusp Village Council), T.V. Farmer, (South Interior Regional manager).
Purchase Print