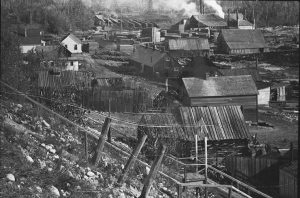 : 2014.003.2027
: C6-19
:
: 1898--
: 1890s, Abriel; Thomas, Bay Street, Bulger; Dave, Clease; Bill, forestry, Nakusp shipyard, Nakusp Trading Co., P. Genelle & Co., sawmill, store, and Sutherland house (Nakusp)
: Nakusp
:
1 b/w negative (35 mm)
:
View from hillside below Grand Hotel of buildings along east end of Bay Street, Nakusp, ca. 1898-1899. P. Genelle & Co. mill at top. Nakusp Trading Co. at extreme top left. Baird house and Bulger house are the two buildings directly below Nakusp Trading; Clease house is small house immediately right of Baird's. Sutherland's dairy, bakery, and house at centre. Thomas Abriel's barn in foreground.
Purchase Print