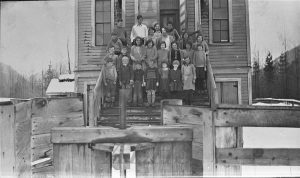 : 2014.003.1997
: C5-10/E11-6A
:
: 1931--
: Annie Sundstrom and Betty Walker
: 1930s, Allen; Albert, Braun; Eva, Braun; Madeline, Brown; John [Burton], Buerge; Helen (Guenard), Burton Elementary School, DeYaeger; Albert, Eley; Les, Guenard; Jeanne, Guidon; Alphonse, Holford; Aubrey, Hopp; Doris (Keffer), Jenkins; Meagan, Johnson; Jarrett, Johnson; Shirley, Montalbetti; Renee (Mante), Robson; Katie, Robson; Wilma, school, Torgerson; Isabelle (Guidon), Walker; Betty (Sundstrom), Walker; Mary, and Yerek; Sabina
: Burton
:
2 b/w negatives (35 mm)
:
Class portrait on school steps, Burton School, 1931. TOP (l-r): ?, Aubrey Holford, Madeline Braun, Alphonse Guidon, ?. 2ND: ?, Eva Braun, Meagan Jenkins, Renee Mante, Shirley Johnson. 3RD: Les Eley, Albert Allen, Jeanne Guenard, Sabina Yerex, ?, Mary Walker, Isabelle Guidon, Doris Keffer. BOT: Jarrett Johnson, Albert DeYaeger, John Brown, Betty Sundstrom, Katie Robson, Wilma Robson, Helen Guenard.
Purchase Print