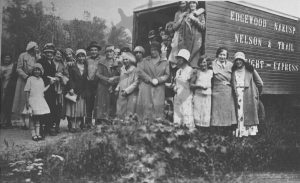 : 2014.003.1994
: C5-7
:
: 1930-- - 1939--
: 1930s, Allen; Jeanne (Mante), Buerge's Garage, Burton Women's Institute, Grimmett; Lily (Marshall; Robertson), Jenkins; Meagan, Keffer; Ruby, Millar; Walter, moving van/delivery van, Rollins; Josephine (Murphy), Sundstrom; Annie (Millar), Sundstrom; Roy, Sutherland; Mae, Walker; Betty (Sundstrom), Walton; Dolly (Moseley), women's institute, and Yerek; Sabina
: Burton
:
1 b/w negative (35 mm)
:
Burton's Women's Institute group posing with freight truck (Buerge's?), ca. 1920s-1930s. ON TRUCK (l-r): Mante, ?, Roy Sundstrom, Betty Sundstrom, ?, Mae Sutherland. BELOW: ?, Dolly Walton, ?, ?, Josephine Rollins, Chiles, Annie Sundstrom, Walter Millar, Fuller, ?, Ashdown, Ruby Keffer, Hubert, Porter, Sabina Yerek, Lilly Marshall, Meagan Jenkins.
Purchase Print