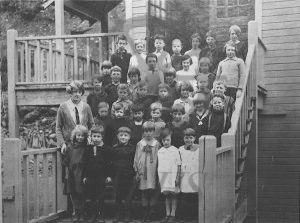 : 2014.003.1989
: C5-2
:
: 1924-- - 1928--
: Mrs. L. Leonard (Nellie Leonard)
: Birtles; Blanchard, Birtles; Dorothy, Brown; Margaret, Carter; Inga, Cooper; Lillian, Del Poupa; Santo, Kirk; Gertrude, Lovell; Herb, Lovell; Jim, McKay; Dan, McLanders; Jess, McLanders; Noani, Morton; Arthur, Petersen; Pelle Eugene 'Gene', Petersen; Snule, Sandon School (1900), school, Smith; Ken (Sandon), Tattrie; Bill, Tattrie; Mary Ellen, and White; Frances
: Sandon
:
1 b/w negative (35 mm)
:
Class portrait of children at Sandon school, ca. mid-to-late 1920s. TOP (l-r): Arthur Morton, Gene Petersen, ?, ?, ?, Jess McLanders, Inga Carter. 2ND TOP (l-r); Mary Tattrie, Blanchard Birtles, Gertrude Kirk, ?, Santo Del Poupa, ?, Frances White, Dorothy Birtles. MID: ?, ?, ?, ?, Ken Smith, ?, Snule Petersen, Dan McKay. 2ND BOT: Margaret Brown (teacher), Jim Lovell, Herb Lovell, ? Bill Tattrie, ? Del Poupa, ?, ?. BOT: Lillian Cooper, ? Morton, ? Kirk, Frances White, Pearl ?, Noani McLanders.
Purchase Print