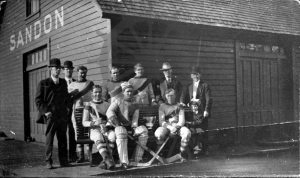 : 2014.003.1953
: C3-10
:
: 1913--
: Mrs. L. Leonard (Nellie Leonard)
: 1910s, Black; John, Cameron; Wilfred, Canadian Pacific Railway station (Sandon), Chisholm; Jack, Cornwall Cup, hockey, McLanders; Bill, Pattison; Dan, Sandon hockey team, Tattrie; Bill, Tattrie; Dan, Tattrie; Jack, Tattrie; Lawrence, Tattrie; Walter, and train station
: Sandon
:
1 b/w negative (35 mm)
:
Sandon hockey team portrait with Cornwall Cup in front of train station at Sandon, 1913. TOP(l-r): Dan Tattrie, Lawrence Tattrie, Bill McLanders, Roy McLanders, Walter Tattrie, Wilfred Cameron, Jack Tattrie. BOT: Dan Pattison, Bill Tattrie, John Chisholm, John Black.
Purchase Print