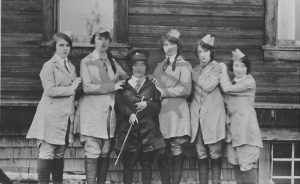 : 2014.003.1894
: B50-19
:
: 1920-03- - --
: Della Parent and Gene Leveque
: 1920s, 312 3rd Avenue NW, Calhoun; Inez (Carlson), Harvey; Nellie, Herridge; Emma (Masters), Kill Kare Club, Mathers; Alice (Leveque; Akerman), McCormack; Pearl (Parent), Parent; Della (Leveque), and play/theatre
: Nakusp
:
1 b/w negative (35 mm),1 b/w photograph (15.8 cm x 10.4 cm)
:
The Foot-Light Revue chorus members flanking Della Leveque ('Primo Donna') in costume, Kill Kare Klub vaudeville society, Leveque house (312 Grace Avenue), Nakusp, March 1920. The club performed at the Opera House, Nakusp, 25 March 1920. L-R: Emma Masters, Pearl Parent, Della Leveque, Inez Carlson, Nellie Harvey, Alice Leveque. Photograph found on page 21 of Kill Kare Klub scrapbook (accession number 986.4.1).
Purchase Print