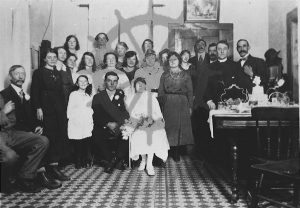 : 2014.003.188
: A10-7/A31-1
:
: 1920-12-01
: 1920s, Cook; Mary, Gaites; Winnie (Wensley), Hamer; Ruhama 'Rhuie'/'Ruhie', Hamling; Ada, Harvey-Smith; Alfred, Harvey-Smith; Selma (Henke), Norris; Liz, Pigott; Vera (Wensley), Salstrom; Oscar, Salstrom; Rose (Hamling), Schiedel; Hilda (Grundstrom), Shelling; Enid (Wensley), Shelling; Joe, Tarr; Elsa (Henke; Olson), Wensley; Fred, and Wensley; Mary
: Brouse
:
2 b/w negative (35 mm)
:
Wensley-Shelling wedding attendees inside of house at Brouse, 1 December 1920. Rose Salstrom noted twice. BOT (l-r): 1.Fred Wensley 2. Hilda Schiedel 3.Vera Wensley 4.Joe Shelling (groom) 5. Enid Wensley (bride) 6.Selms Harvey-Smith 7.Minister 8.Mr. Jones. MID: 9.Rhuie Hamer 10.Mrs. Townsend 11.Winnie Wensley 12.Mary Wensley 13.Mary Cook 14. Elsa Henke 15.Rose Salstrom TOP: 16.? 17.Liz Norris 18.Ada Hamling 19.? 20.Mrs. Jones 21.Rose Salstrom 22.Oscar Salstrom 23.Alf Harvey-Smith.
Purchase Print