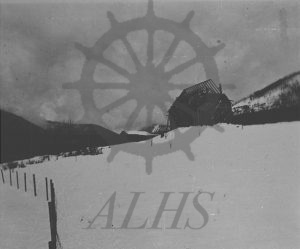 : 2014.003.1878
: B50-3
:
: 1922--
: 1920s, 440 Nakusp East Road, building construction, farms, and Neubrand; Karl
: Glenbank
:
1 b/w negative (35 mm)
:
Karl Neubrand (Newbrand) house under construction, 440 Nakusp East Road, Glenbank. Notes from Milt Parent: 'Neubrand (Newbrand), Karl. Location - 1922. Lot 129, Glenbank. Builder, Info - ?. This was the former Woods property. Karl had a house built there. Sub owners - Vern Enyedy. Had a piano museum in the barn, 1975. To Revelstoke in 1988. Tim Reimer. Also had a 2nd hand place there.' Fred Kirk worked on the construction of the house and stated that it cost $700 to build.
Purchase Print