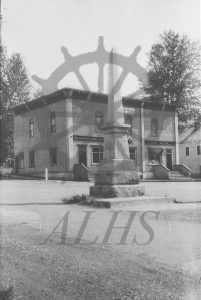 : 2014.003.1869
: B49-16/E45-3A
:
: 1930-- - 1939--
: Edith Barrow and Fred Wahlstrom
: 1930s, bank, Broadway Street, Canadian Imperial Bank of Commerce, cenotaph, Masonic Building (Nakusp), Nakusp cenotaph, Nakusp post office, post office/Canada Post, and Slocan Avenue
: Nakusp
:
2 b/w negatives (35 mm)
:
Postcard, war memorial cenotaph and Masonic Building (317 Broadway Street West) containing Masonic Lodge, Canadian Bank of Commerce, and Nakusp post office, intersection of Broadway Street and Slocan Avenue, Nakusp, ca. 1930s. War memorial cenotaph in intersection in foreground. Postcard by Canadian Post Card Co., Toronto.
Purchase Print