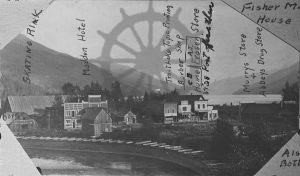 : 2014.003.1810
: B45-2
:
: 1915--
: 1910s, Abey's Drugs, barber shop, C.B. Hume & Co., Fisherman Jack, hotel, J.O. Piper Furniture, Lardeau Creek, Madden Hotel (Trout Lake), pharmacy, store, Trout Lake, Trout Lake skating rink, and Trout Lake Topic
:
1 b/w negative (35 mm)
:
Clipping from Andy Craig Jr. scrapbook featuring photo of downtown Trout Lake ca. 1915 with inscriptions describing buildings. L-R: Barn, skating rink, Madden Hotel, ?. Trout Lake Topic printing office, barber shop, J.O. Piper Furniture, C.B. Hume/A.J. Fraser Store (was post office then), ice house (across street), Murray's store & Abey's drug store (not 'Abbey'), Fisherman Jack's house. Lardeau Creek at bottom left.
Purchase Print