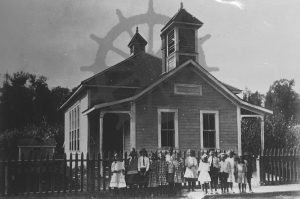 : 2014.003.1808
: B44-22
:
: 1914--
: 1910s, Craig; Doris, Davenport; Helen (Godsoe), Davis; Erma (Godsoe), Jacobson; Roy, Lardeau Street, Lebeau; Alice (Jacobson), Lebeau; Frances, LeQuesne; Dora Watson (Wilkie), Madden; Robert, Madsen; Charlie, Madsen; Clara, school, Simpson; Jean (Craig), Trout Lake School, and Wilkie; Winnie
:
1 b/w negative (35 mm)
:
Children posing on sidewalk in front of new Trout Lake School, built 1914. Inscription: 'New School opened by Forest Manning on Lardeau St. Trout Lake.' L-R: Winnie Wilkie, Erma Godsoe, Roy Jacobson, Doris Craig, Alice Jacobson, Dora Wilkie, Jean Craig, ?, Clara Madsen, Charlie Madsen, Robert Madden, Helen Godsoe, Frances Lebeau, ?.
Purchase Print