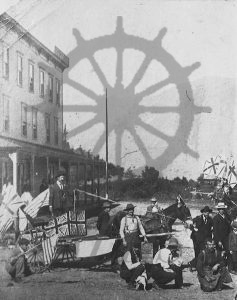 : 2014.003.1802
: B44-15
:
: 1909-07-01
: 1900s, Beaton Hotel, Beaton; Malcolm, Canada Day, Gunterman; Henry, Gunterman; Will, hotel, oxen, and wagon
: Beaton
:
1 b/w negative (35 mm)
:
Crop of Mattie Gunterman photo showing men posing with Malcolm Beaton's ox-pulled wagon decorated for Dominion Day, 1 July 1909, Beaton in front of Beaton Hotel. Notes from Avery H. Gunterman: 'Heading for Camborne, July 1 celebration. They also had 2 team of oxen on another wagon with caption on side reading "Beaton Bus". This was 1909.' Henry Gunterman is at far left behind flag. William Gunterman is at far left in vest. Malcolm Beaton in kneeling in front of wagon at centre.
Purchase Print