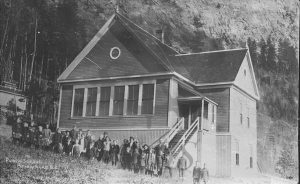 : 2014.003.1775
: B42-23/E20-0A/G25-26
:
: 1910-- - 1915--
: Annie Sendey, Grace Mackey, and Vera Olson
: 1910s, Arrowhead School, Carlson; Marion, Cook; Louie, Forslund; Frieda, Forslund; Oscar, Furiak; Joe, Furiak; Mickey, Furiak; Theresa, Furlong; Cecilia 'Cis', Fyfe; Charlie, Fyfe; Kenneth, Gallard; Nancy, Gibson; Marjorie, Kerr: Ida, Kerr; Florence, Kerr; Irene, Kirk; Clarence 'Bob', Lightburn; Bill, Morrison; Kathleen, Morrison; Letitia, Reid; Hazel, school, Sendey; Annie (Fyfe), Thompson; Mr. (teacher), and Weir; Edna
:
3 b/w negatives (35 mm)
:
Class portrait in front of Arrowhead School, ca. 1910-15. MAIN (l-r): Edna Weir, Cecilia Furlong (Cis), Nancy Gallard, ?, ?, Theresa Furiak, Marian Carlson, Florence Kerr, Hazel Reid, Freda Forslund, Annie Fyfe, Irene Kerr, Letitia Morrison, Ida Kerr, Louie Cook, Marjorie Gibson, Kathleen Morrison, Oscar Forslund, ?, ?, ? Harkness. BACK: ?, Willie Lightburn, Clarence (Bob) Kirk, Joe Furiak. FRONT: Kenneth Fyfe, ?, Charlie Fyfe, ?, ?, Mickey Furiak. Teacher: Mr. Thompson.
Purchase Print