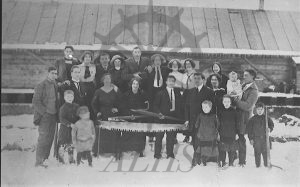 : 2014.003.1771
: B42-18
:
: 1914-01-01
: 1910s, Anscombe; Lena (Vipond), Baston; Jack, Berard; Isabelle (Patterson), Corbett; Lillian, Cusick; Clyde, forestry, Fowler; Albert E. 'Bert', Fowler; Dick, Fowler; Ethel (Vipond), Fowler; Fred, Fowler; Gilbert, Fowler; Kathleen 'Kay', Leary; Charles Sidney 'Sid', Leslie; Catharine (Vipond), logging camp, Martin; Naomi (Vipond; Cusick), McAdam; Gwen, McCamon; Florence 'Flossie' (Edwards), Moore; Tom, Padden; W., Rogers; Violet, Thompson; Don, Vipond; Fred, and Woodhouse; Hilda (Patterson)
:
1 b/w negative (35 mm)
:
Group portrait with saw in front of camp building, Crescent Bay, 1 January 1914. TOP(l-r): Tom Moore, Gwen McAdams, Jack Baston, Flossie Edwards, W. Padden, Leva Vipond, Violet Rogers, Lillian Corbett. MID: Don Thompson, Clyde Cusick, Naomi Vipond, Catharine Vipond, Fred Vipond, Sid Leary, Ethel Fowler, Kathleen Fowler, Bert Fowler. BOT: Richard Fowler, Gilbert Fowler, Isabelle Patterson, Hilda Patterson, Fred Fowler.
Purchase Print