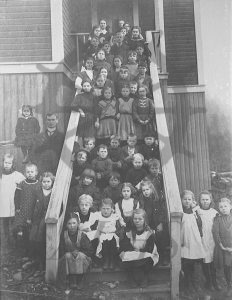 : 2014.003.1754
: B41-22
:
: 1917-- - 1918--
: Annie Sendey and Catherine Fyfe
: Arrowhead School, Campbell; Isabella, Carlson; Marion, Forslund; Frieda, Fraser; Winnie, Furiak; Isabella, Kerr; Florence, Newman; Sandy, school, Sendey; Annie (Fyfe), and Thompson; Mr. (teacher)
:
1 b/w negative (35 mm)
:
Class portrait on stairs, Arrowhead School, 1917-18. Thompson (teacher) standing to left of stairs at centre. Winnie Fraser immediately to top right of Thompson with arm on railing. Annie Fyfe to right of Fraser. Marion Carlson and Florence Kerr directly below Thompson. Freida Forslund at front centre. Sandy Newman at bottom of stairs to right of Forslund. Mia ? at right of stairs three rows above Newman. Student at bottom right beside steps L-R: Theresa Furiak, Isabella Campbell, Bessie ?.
Purchase Print